Hey Everyone!
With the upcoming public demo release rapidly approaching, we've been hard at work tweaking and polishing the essentials, making sure every aspect of the Lustbound JOI demo is running as smoothly as possible.
The January tester build was a success, as we were able to stamp out most of the remaining bugs and act on some of the great feedback we received, making the experience all the more intuitive.
Newest Pose
Estelle picked up a new skill this past month, and this video undoubtedly speaks louder than words…
Designing the blowjob capability came with it's own set of challenges, but this only spurred us on to improve the already impressive IKy Sticky, our custom dynamic sex animation system.
We've completely revamped the body and head IK implementation to allow for more accurate independent control of the head while retaining complete control over the rest of the body at the same time.
For those who've had a chance to test previous iterations, you'll likely notice that she looks much more natural the way she holds herself in most poses. Her eyes should also appear much more natural, blinking, looking around, and focusing more realistically when looking at the camera or other points of interest.
We've also implemented a new hand posing system which allows us to easily add alternative hand poses to sex animations.
Lastly, nobody can give head with their mouth closed! Animation layers now support independent mouth masking, allowing for all the open mouthed goodness seen in the BJ preview.
Bonus: Estelle can finally take advantage of our existing blowjob patterns!
Crystal Ball Feedback
We said we were done with it, but a number of people gave us similar feedback and we couldn't just ignore good ideas that improve the overall experience and that don't take too long to implement.
The biggest change is the personal image gallery folder, which could actually be considered the first official mod. Simply drag and drop your favorite sexy images into the custom gallery folder, and they'll become available through the in game portal options!
Other changes include improved portal placement which doesn't allow the stroker to overlap portal images, orthographic view to better represent the actual images on screen and improved speed controls giving you better oversight on the time between image switching.
Visual Quality Improvements
We've doubled Estelle's texture resolution! This should be immediately apparent when viewing her body at close range.
On top of this the skin shader has also been tweaked to show less artifacts in the self shadowing and rim lighting, giving her an overall boost in visual fidelity.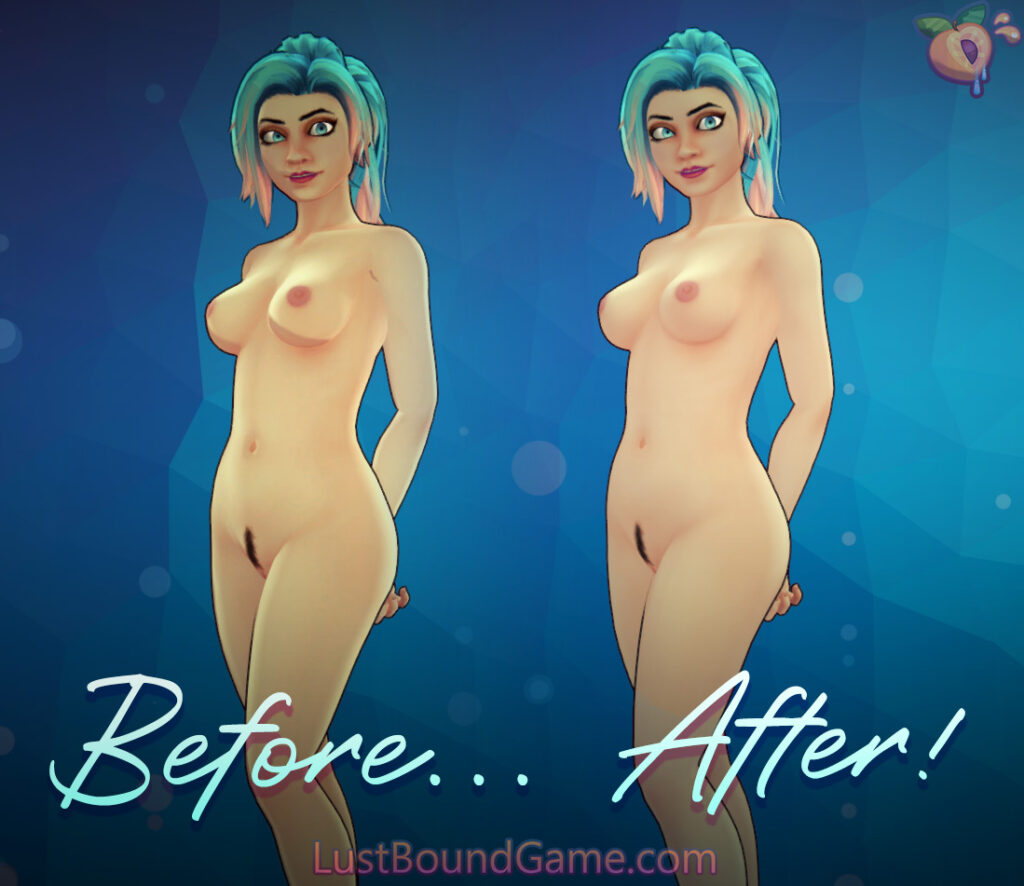 One Last Thing
We're officially opening up testing to a broader audience as of right now. If you are interested in helping out by testing a prerelease version of the JOI demo, simply send a message to FlashBangZ!
We messaged everyone we had on the waiting list, but if we've missed you please send us another message!

Camera System
We've done much of the groundwork this past month, but there is still loads to be done. Definitely our top priority right now as we want to showcase the sex positions in the most appealing way possible.
Sex Sounds
As Estelle continues to build on her ever expanding sexual skillset, we now see the need more than ever for these sex acts to be accompanied by high quality sound effects. We hope your ears are ready for all the sweaty, wet, wild and lewd sounds a system like this deserves!

V0.35 (internal)

All builds
Estelle has learned how to give mind blowing head!

Improved Estelle's body, head and eyes look at IK

Added random eye gazing and blinking

The crystal ball slideshow now displays the speed value in seconds per image

Crystal ball can now load up a local Image folder, allowing you to enjoy your own custom gallery

The animation system now feature a hand posing functionality

Estelle now has a sexy new facial expression during JOI sequences

Red light / Green light background colors were tweaked

All builds
Estelle's textures resolution has been increased

The shadows and shading on Estelle's body are now much smoother

No more spelling error in the word "naked" in the First Play sequence

The feedback form will now submit properly without having to populate the bug fields with placeholder text

The crystal ball no longer appear skewed

The crystal ball image portal is now located on the left of the screen to prevent overlapping with the image portal

Feedback form will not select all and scroll back to the top when you minimize and then return to the form

Estelle no longer flickers when the game is paused

The voice on sound clips in the intro are now leveled properly

The colors of the text and dialogue box are now more legible over top of Estelle's skin color

Fixed typo in the ''Report Bugs like a Boss'' pop up

Estelle now properly resets to her initial standing position when returning to the main menu

Empty feedback forms will no longer get submitted

Pressing tab in the feedback form fields now moves between input fields in the proper order

The first play sequence has been modified to mention the new Crystal Ball features and has had dialogue referring to her missing body removed now that she is using the new model

The dialogue now auto advances after a reaction is used to allow for less interruptions to hands-free play

PC build
Adding a Bluetooth delay to fix timing issues. Abandoned for now, as the implementation was resulting in lost information and skipped movements.
All builds
Gender neutrality in the intro text: This bug prompted us to consider what the future of Lustbound will look like. We want to support gender inclusivity but we also have to consider the compounding workload it will create if we plan on displaying the player character on the screen with Estelle. This definitely requires some thought and consideration, we shall keep you in the loop as we figure it out!

Choosing the length of JOI session

Highlight the direction of the Crystal Ball slide show

Add randomization to the speed of stroker patterns in Red/Green light mode